Johanny Baez (right) has worked in the undergraduate admissions office at the University of Connecticut (UConn) main campus in Storrs since her graduation in 2012. She credits her early experience as a freshman in a summer diversity program and a strong network of student support services throughout her own academic career for her chosen vocation.
"We support students with applications, picking a major, finding opportunities," said Baez, a member of our AFT-Connecticut affiliated UConn Professional Employees Association (UCPEA). She added that she and her colleagues provide critical post-academic assistance, helping graduates with "finding internships and jobs."
It is this kind of relationship, according to Baez, that strengthens the bond in the students and families she serves with the university and Connecticut at large. But she worries that cuts to higher education support services put these vital relationships and the extended network they foster at risk.
"When parents ask me why UConn is so great, I can say — without hesitation — that the amazing support system in place puts the university in a class of its own," said Baez. "Students need those supports, and we need to have the confidence that we can provide them," she added.
Click here
for a recent commentary from a UConn student on the vital role that UCPEA union members play.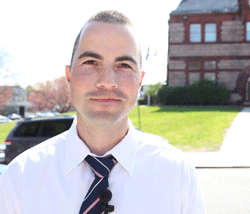 Tim Haggerty (left) is an adult probation officer (APO) based in New London, where for nine years he has supervised convicted sex offenders and provided critical community re-entry services. He has approximately 50 clients at any given time, and between him and his partner, their probation caseload averages about 100 and spans the southeastern region of the state.
But Haggerty, a member of our Judicial Professional Employees (JPE) union, is concerned that current and proposed state budget cuts will make it harder to keep track of his clients. Just this week another 113 layoffs were ordered for the state's criminal justice workforce, bringing the total to nearly 250 job cuts in the Judicial Branch since April.
"There have to be different ways to save money that don't risk the safety of the community," said Haggerty, a member of the local union's executive board. "We are the 'second chance society,'" he added, referring to the governor's high profile initiative to re-integrate nonviolent offenders after they have served their prison sentences. "But we can't make that work if our funding is continually being slashed."
Click here
for news coverage of the impact of cuts to criminal justice services featuring JPE union members.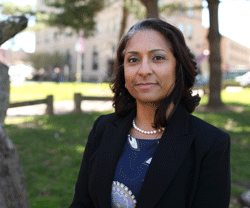 Cyndi Lloyd (right) is a special investigator in the State Treasurer's second injury fund office where for nearly nine years she has worked to assure compliance with worker's compensation laws. She is responsible for making sure that claims are legitimate and that businesses have the proper insurance policies in place to cover the costs of employees' injuries on the job.
Lloyd, a member of our our Administrative & Residual (A&R) Employees Union, sees her charge as two-fold. She helps employers avoid costly fines while also preventing taxpayers from picking up the full tab for work-related injuries.
Reacting to the nearly 800 total state employee job cuts that have already been ordered, Lloyd said such an approach is little more than "moving the buck." Instead of producing promised savings, Lloyd pointed out that taxpayers will "bear the burden when laid-off state employees end up themselves needing social service benefits."
"I'm hoping to encourage our legislators to strive for some type of economic balance," said Lloyd, a member of the local union's representative assembly. "We've got to find a way to spread it out so everyone can experience a smaller hit," she added, referring to the need for reform of Connecticut's unfair tax structure.
Click here
for news coverage of our A&R union members' advocacy for better budget choices.
An annual event since 1985, national Public Service Recognition Week honors all of our public servants across the nation. As Baez, Haggerty and Lloyd make clear, every day state employees are part of the vital link connecting citizens to the government that serves them.
Click here
to learn more about the annual recognition week celebration.
Help amplify their message that service cuts and employee layoffs will sacrifice Connecticut's quality of life. With lawmakers in the General Assembly expected to return next week for a special session to close future budget shortfalls, it's more important than ever that our collective voices be heard.
Click here
to urge your legislators reject austerity and instead respect public services and the professionals that deliver them.