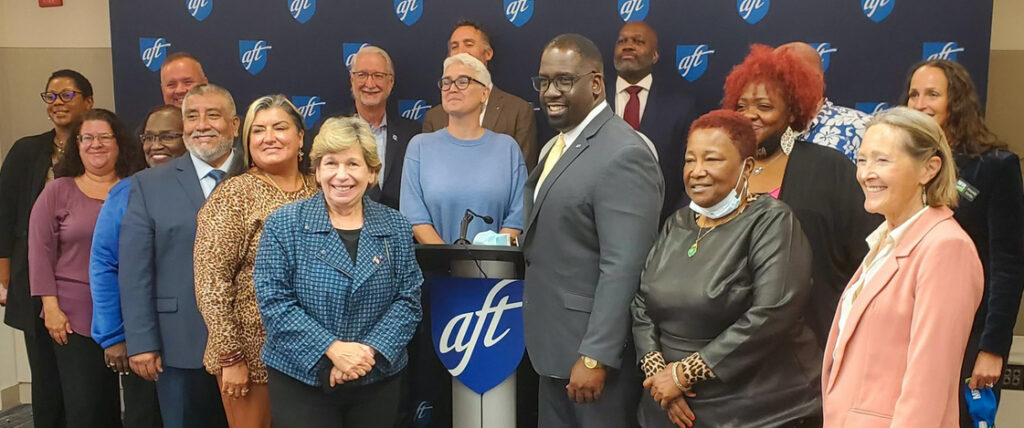 Our state federation has initiated a "mini-grant" program to make funds available to AFT affiliated-union members for financial assistance with labor leadership development. A total of $4,000.00 is available each fiscal year (July 1 through June 30) and each recipient is eligible for a maximum grant of $500 per year for qualifying programs.
Consideration will be given for any program, including attendance at AFT-sponsored conferences or training. Established programs include:
Labor Summer School – The course is held each year in June at a college or university in the greater northeast region and participants typically spend the week on campus (though may commute). Topics vary and may include negotiations, collective bargaining, politics, grievances, and arbitrations.
AFT Constituent Issues Conferences – Our national union convenes several gatherings for affiliated union members each year, such as:

AFT TEACH (Together Educating America's Children) for Pre-K-12 teachers (biennial);
Higher Education Professional Issues Conference (PIC) for college and university faculty and personnel (annual);
Healthcare Professional Issues Conference (PIC) for nurses and allied health professionals (annual);
PSRP Professional Issues Conference (PIC) for paraprofessionals and school related personnel (annual); &
Public Employees Professional Issues Conference (PIC) for state and municipal workers (annual).
Click here to access the AFT UNI catalog for additional available leadership programs (June, 2019).
Click here to send an email requesting an application and instructions for a union leadership "mini-grant."
Our national union's AFT Innovation Fund has sought to seed and cultivate promising union-led ideas to improve PreK-12 and higher education, healthcare and public services since 2009. The Carnegie Corporation of New York, the Ford Foundation, the Bill & Melinda Gates Foundation and the Charles Stewart Mott Foundation also provide additional underwriting assistance.
Two local affiliated unions secured national grants in 2023. Our New Haven Federation of Teachers received funds to create and expand opportunities and professional learning sessions for veteran educators to collaborate with and support new hires. Our
Newtown Federation of Teachers' grant will support their high school's "greenery" program, which both supplies food for the culinary curriculum and serves as an agricultural laboratory for students.
Click here to learn more about AFT Innovation Grants and apply for future funding.