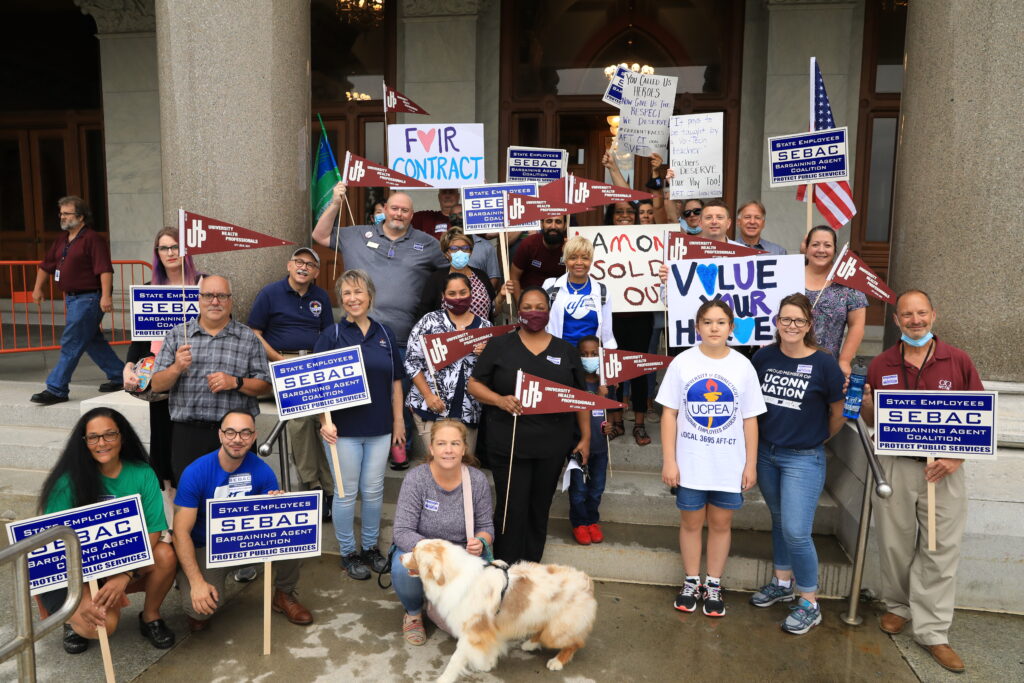 AFT Connecticut represents thousands working in the state's executive and judicial branches, as well as the career and technical education system, colleges and universities, in addition to several local municipalities. Our federation is also part of the State Employees Bargaining Agent Coalition (SEBAC), which serves to unite the major unions representing over 40,000 full and part-time Connecticut state workers.
Timely updates and relevant resources for members of SEBAC-affiliated locals are available at the coalition's website, linked above.
Click here for SEBAC v. Rowland lawsuit settlement information from the firm representing the coalition (Nov., 2022).
State workers whose rights to collective bargaining have been historically restricted under the law are also a part of our labor family. Since the 2017 affiliation with the Association of Managerial Employees in the Connecticut State Service (AMECSS), hundreds have joined together for a stronger voice on the job.
Click here to send email requesting more information about our Managerial + Exempt (M+E) Employees (or access their website at the Locals section, linked above).
Public Employees News
The combination of solidarity, persistence and patience is a potent formula for fueling labor-management negotiations aimed at substantially moving the needle for union members. That has proven to be the case for several recent contract wins featuring significant economic gains. Our latest collective bargaining report spotlights a victory rooted in unity and tenacity by paraprofessionals […]

---

The global COVID-19 pandemic is undoubtedly the greatest collective challenge our union members have faced in their lifetimes. Securing adequate compensation for the risks taken by frontline "essential" workers has been a daunting and often frustrating challenge. Our latest collective bargaining report highlights how public employee members tapped the power of "Union YES" to move […]

---

Effectively teaching and supporting students, whether in PreK-12 or higher education settings, requires the entire school or college community to embrace a "whole child" approach. That is one of the central themes of a recently published op-ed by Christopher Trombly (speaking in photo, below), a member of our recently affiliated CSU-AAUP. It drives his demands […]

---
Upcoming Events
2nd Floor Soifer Conference Room, AFT CT
There are currently no upcoming events.