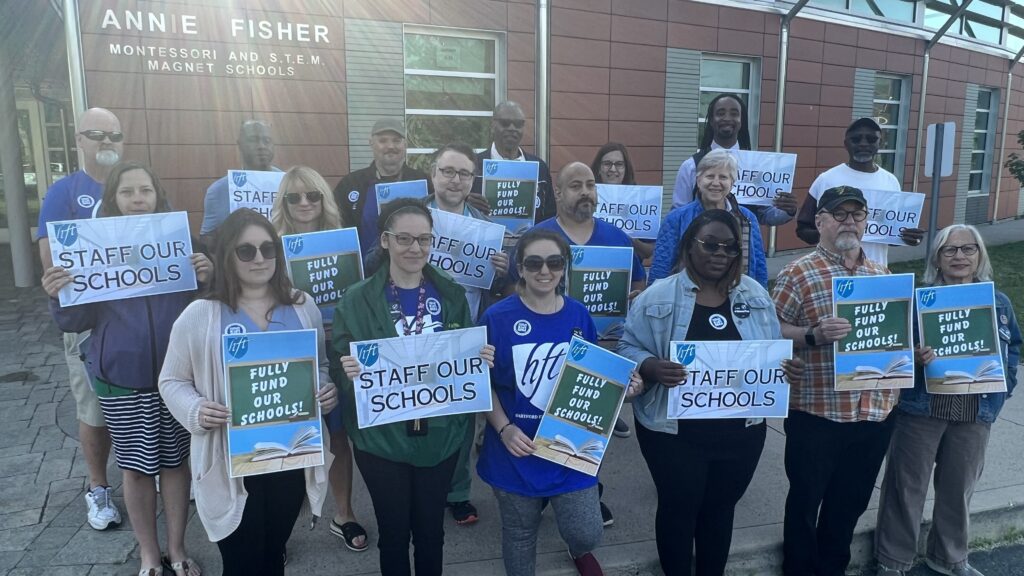 AFT Connecticut represents PreK-12 educators in local, regional and state districts across Connecticut, as well as private and charter management organization (CMO)-operated schools. Our members are proponents for fully-funding traditional neighborhood schools, holding the boards overseeing magnets and CMOs accountable, and engaging lawmakers to support quality student learning. From contract negotiations to educator evaluations to teachers' pensions, our state federation is committed to uphold members' rights and support their collective efforts aimed at serving Connecticut's youth.
Click here to access our PreK-12 Council's open Facebook group. *
Click here to access Share My Lesson's free resources for educators.
Click here to access Donors Choose and help teachers in need of supplies for their classrooms.
* requires approval to participate; does not require FB user account to access.
Teachers News
It was a shooting at a high school in Michigan in 2021 that compelled union activists to co-found Teachers Unify to End Gun Violence. Together, they sought to elevate stories of gun violence in schools and communities in order to change policies. They additionally committed to making resources and support available to educators, support staff […]

---

The combination of solidarity, persistence and patience is a potent formula for fueling labor-management negotiations aimed at substantially moving the needle for union members. That has proven to be the case for several recent contract wins featuring significant economic gains. Our latest collective bargaining report spotlights a victory rooted in unity and tenacity by paraprofessionals […]

---

While AFT Connecticut's annual convention is an opportunity for state federation leadership to take action on priority policy initiatives, it's also a time to lift up members. The 2023 event's agenda included a return to the announcement of scholarship program winners as well as the presentation of citations, recognitions and awards. The theme of the […]

---
Upcoming Events
2nd Floor Soifer Conference Room, AFT CT
There are currently no upcoming events.