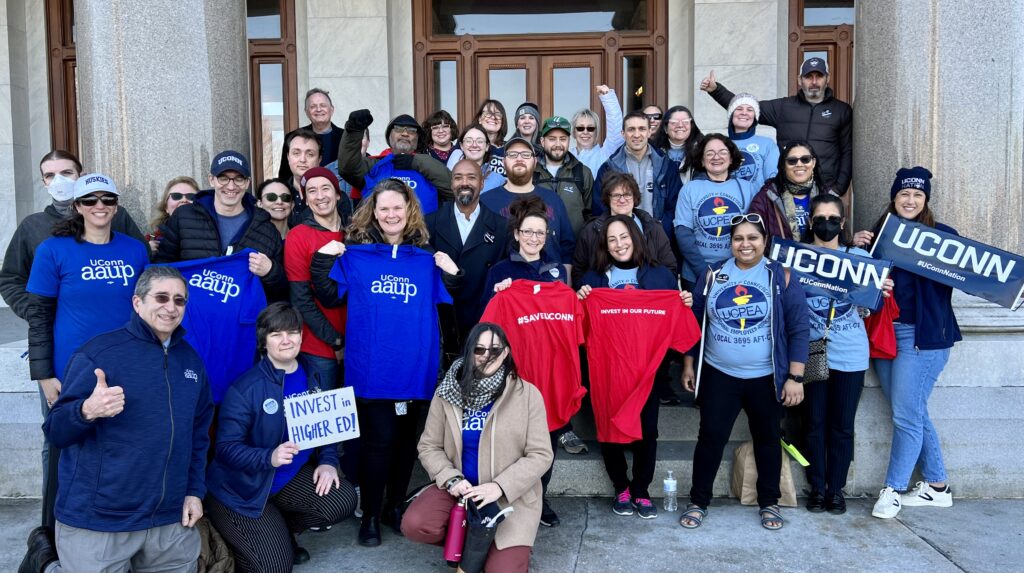 Faculty and support staff at several public and private higher education institutions across Connecticut are members of AFT Connecticut-affiliated unions. These educators hold a variety of positions in their institutions, ranging from full-time, part-time or adjunct faculty to research, clerical, administrative, security staff and more. Though each may have unique concerns and needs, they share goals of promoting academic and institutional excellence and securing the rights and respect they deserve as higher education professionals.
In 2022, several local chapters of the American Association of University Professors (AAUP) joined our state federation's labor family when their national union affiliated with AFT. Together, we work hand-in-hand to protect academic freedom on campuses and to unify the faculty voice for greater strength at the Connecticut General Assembly.
Click here to learn more about the "Higher Ed, Not Debt" campaign.
Click here for our national union's campaign to unite contingent faculty, graduate and undergraduate workers.
Click here to learn more about AAUP's affiliation with AAUP.
Higher Education News
Despite a record state budget surplus, Governor Ned Lamont's proposed fiscal blueprint calls for destructive cuts to public higher education. Louise Williams (middle, in photo below), the president of our affiliated CSU-AAUP in a recently published opinion piece warned of the consequences; faculty and staff layoffs, student tuition hikes, program cuts and campus closures. She […]

---

The global COVID-19 pandemic is undoubtedly the greatest collective challenge our union members have faced in their lifetimes. Securing adequate compensation for the risks taken by frontline "essential" workers has been a daunting and often frustrating challenge. Our latest collective bargaining report highlights how public employee members tapped the power of "Union YES" to move […]

---

Effectively teaching and supporting students, whether in PreK-12 or higher education settings, requires the entire school or college community to embrace a "whole child" approach. That is one of the central themes of a recently published op-ed by Christopher Trombly (speaking in photo, below), a member of our recently affiliated CSU-AAUP. It drives his demands […]

---
Upcoming Events
2nd Floor Soifer Conference Room, AFT CT
There are currently no upcoming events.