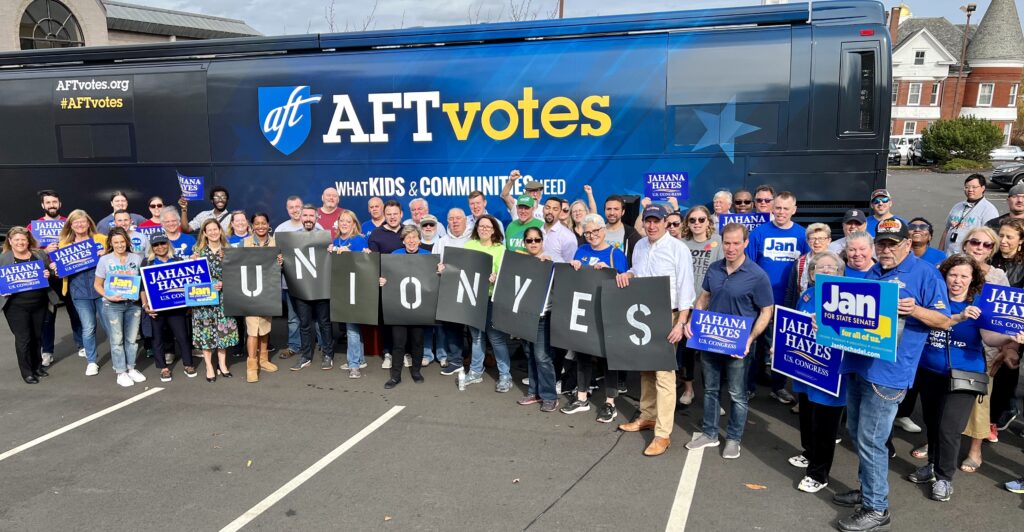 Political Candidates
For our members and their families, civic and electrical engagement are critical to ensuring that corporate-funded special interests can't get away with dominating American politics or our democracy. That takes backing candidates publicly committing to and supporting incumbents with a proven track record of standing up for working people at the local, state and federal levels.
AFT Connecticut's Legislative and Political Action Committee (LPAC) will review requests for endorsement from candidates for state constitutional, legislative, municipal and school board offices. To be considered, they must first have signed a Statement of Principles for Public Officials.
Click here to send email requesting an endorsement application for a political candidate.
Our national union coordinates advocacy efforts that include electing candidates to serve in Congress and the White House who will put the interests of working families first.
Click here to learn more about AFT's legislative and political advocacy.
Click here for an updated list of endorsed candidates for statewide and federal office in the 2022 General Election (October, 2022).
This communication is paid for by AFT Connecticut and is intended for members of AFT Connecticut-affiliated unions only. It is not paid for or endorsed by any political party or candidate's campaign.