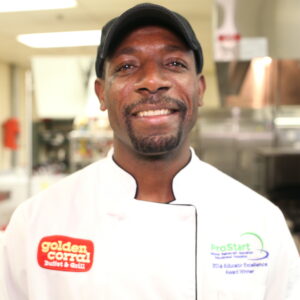 Nathaniel Bradshaw (right) is a culinary arts instructor at Wilbur Cross High School in New Haven where he provides his students "a hands-on" educational experience while teaching them valuable skills. In ten years with the district Bradshaw has seen firsthand how important student involvement and educator cooperation are to his graduates' success.
Click here
to watch Bradshaw share how he and his colleagues have grown enrollment in their school's culinary arts classes.
"Here, all CTE teachers work together as a team," said Bradshaw, a member of our AFT Connecticut-affiliated New Haven Federation of Teachers. "We meet as a department to address any issues so we're collaborating to make sure all our students progress to their next level," he added.
That shared commitment has helped Bradshaw and fellow teachers foster partnerships with community-based, statewide and national organizations to further enhance their culinary and restaurant management instruction. One such example is their participation in the ProStart program, an after-school course supported by the National Restaurant Association's Educational Foundation. The effort has created opportunities for Bradshaw to showcase his students' skills.
"We have two teams of students representing Wilbur Cross competing with other schools, not just in the district but across the state," said Bradshaw on their involvement in Connecticut's annual ProStart Invitational event. "That has helped grow our culinary program as a whole. Plus, every year we've competed, my students have received some type of scholarship to further their education," he added.
Click here
for press coverage of Bradshaw's 2015 national honors from ProStart.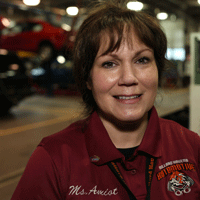 Roxanne Amiot (left) is an automotive technology instructor and department head at Bullard-Havens Technical High School in Bridgeport where she completed her own secondary education. She is passionate about work-based learning in large part because she is "a product of the technical high school system, fortunate enough to learn a technology and a trade."
"I enjoy giving back because I know what this school did for me," said Amiot, a member of our State Vocational Federation of Teachers and a 28-year Connecticut Technical High School System (CTHSS) employee. "This is what my students need; their own training and career path so they can enjoy their lives and support themselves."
Click here
for a 2008 press profile of CTHSS students and educators that featured Amiot.
Amiot wants elected officials, public policymakers and opinion leaders to understand how "vocational" training has evolved — and recognize the vital role CTE teachers and instructors play in supporting economic growth.
"These programs allow my students to learn a skilled trade so they can provide for their families — as well as help our local businesses and industry grow," she said. "In this building we're producing our future skilled workforce."
The rapid pace of change in the automotive industry is an example of why Amiot says it's critical for state and federal lawmakers to invest adequate resources into CTE.
"With new photovoltaic technologies, alternative fuels and on-board computers in every vehicle, we have to keep up. We're training the workforce that will literally keep society moving," Amiot added.
Click here
for recent press coverage of CTHSS' partnership with the National Space and Aeronautics Administration (NASA).
At a time when employment opportunities are so critical to Connecticut's future, Bradshaw and Amiot demonstrate the importance of ensuring students are equipped with the skills to enter the workforce. The opposition last fall by business owners, legislative leaders and education advocates to a proposed shuttering of state technical high schools shows an increased understanding of CTE's true economic value.
Click here
for a CTHSS graduate's published letter in response to threatened CTE service cuts.
Bradshaw and Amiot also demonstrate the public service and personal dedication exemplified by the theme of this year's CTE month recognition; "Celebrate Today, Own Tomorrow." The civic awareness campaign is promoted annually by the Association for Career and Technical Education (ACTE) in order to highlight the achievements and accomplishments of educators and graduates across the country.
Click here
to learn more about CTE Month 2017 from ACTE.