Lisa Giglio (right) is a behavioral tutor at Charles H. Barrows STEM Academy in North Windham where she has worked since it opened three years ago. Teachers call on Giglio to intervene when students with special needs or developmental issues become disruptive in their classroom, so she knows firsthand the importance of working together as team.
"If there's something going on with any of our students, we all get together to talk about it," said Giglio, a member of our AFT Connecticut-affiliated Windham Federation of Education Personnel's negotiating committee. "Teachers are the first to try to resolve the issue. But if a situation escalates, that's when I'm called to come in and personally sit and work with the child," she added.
Giglio, who previously worked as a tutor in a district elementary school, believes her role demonstrates the significant contribution that PSRPs make toward assuring positive learning outcomes. By addressing the disruption caused by a child with behavioral or emotional issues, certified educators are freed up to to focus on teaching. At the same time, the rest of the student's classmates are better able to concentrate on the curriculum.
"Every staff member in the school — from the principal to the social worker to the psychologist to the assistant principals to the teachers to the paraprofessionals to the tutors — all work together for each child," said Giglio. "Particularly being in an urban district, we're all working to make sure they not only grow academically, but advance socially and feel that they belong," she added.
Click here
to see Giglio and her colleagues at union contract negotiations this summer.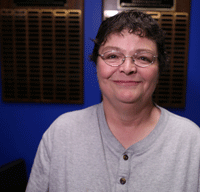 Mary LeRoux (left) is a special education paraprofessional at the Bentley Alternative Ed School in Manchester where she has worked for 12 years. As the only paraeducator at the school, she is assigned to students with learning disorders, physical disabilities or behavioral issues to assure that their Individualized Education Program (IEP) needs are met.
"The learning curve for students with special needs has changed drastically," said LeRoux, who has worked in the district for 23 years. "They need more time with staff in the classroom to help them advance," she added.
LeRoux, who previously served as president of our affiliated Manchester Paraprofessionals and Tutors Association, believes that PSRPs are "the engines keeping public schools running." She believes that the role of non-certified staff in supporting students with special needs can't be overstated.
"The teachers teach," said LeRoux. "But the special education personnel behind them are able to give their students individualized help in any area requiring extra attention."
As Connecticut's population of students with special needs, a learning disability or an Autism Spectrum Disorder (ASD) has ballooned in recent years, schools are increasingly reliant on non-certified staff. At the same time, their "caseloads" have grown exponentially due to budgetary constraints at the state and local levels.
Still, LeRoux says that as part of a small team she is treated with the "same level of respect" as the rest of Bentley's small staff. Her colleagues — five teachers, one social worker, one psychologist, a part-time nurse and principal — function "like a single body, supporting each other as much as we do our kids."
Click here
for press coverage of educators and parents' recent efforts to support Manchester families with special needs students.
National Education Support Professionals (ESP) Day was observed Wednesday at the State Capitol in Hartford with a development and leadership symposium organized by the Capitol Region Education Council (CREC). The event, which AFT Connecticut co-sponsored, featured a keynote speech by Hartford Federation of Paraprofessionals member Denise Seel, the state's 2016 Paraeducator of the Year.
Click here
to see Seel with Connecticut's 2017 honoree.
As a part of American Education Week (AEW), ESP Day is set aside annually to focus on the importance of school employees like Giglio, LeRoux and Seel. Their dedication and commitment are a powerful demonstration of the theme of this year's recognition; "one education workforce serving the whole student."
AEW has been an annual tradition since 1921 following joint efforts by the National Education Association (NEA) and the American Legion to generate greater support for and awareness of public schools. Our national union has since joined a coalition of government, non-profit and community-based education and advocacy organizations as co-sponsors of the event each year.