L+M Hospital Caregivers Approve New Collective Bargaining Agreement
"We have a truly outstanding workforce that, every day, provide our patients with compassionate, safe, quality care," said Bruce D. Cummings, L+M president and chief executive officer. "At a time when there is so much uncertainty and upheaval affecting healthcare, this new agreement provides a measure of stability and predictability to our workforce, to our patients and to the larger community we all serve."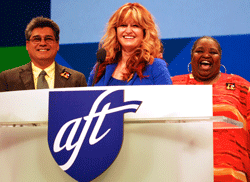 "We are thrilled our members have ratified our new agreement with leadership of the network that operates our hospitals," said Lisa D'Abrosca, RN (center in photo), president of AFT Local 5049, which represents hospital nurses. "It's due to the hard work of both our negotiating committee and management coming together in the shared spirit of putting our patients first."
"Once again, the collective bargaining process has proven to be the best way for labor and management to work together," said Stephanie Johnson, RPSGT (right in photo), a sleep lab tech and president of AFT Local 5051, which represents the facility's medical technologists. "It's also the best way to advocate for our patients and our community, and this new contract serves their interests, too."
"Our member caregivers deserve a lot of credit in seeing these negotiations through to a successful conclusion," said Harry Rodriguez (left in photo), NICU coordinator and president of AFT Local 5123, which represents healthcare workers at the hospital. "They stood by the bargaining team throughout the process, understanding that this is how we collaborate with management to make improvements in patient care and workplace conditions."
# # #