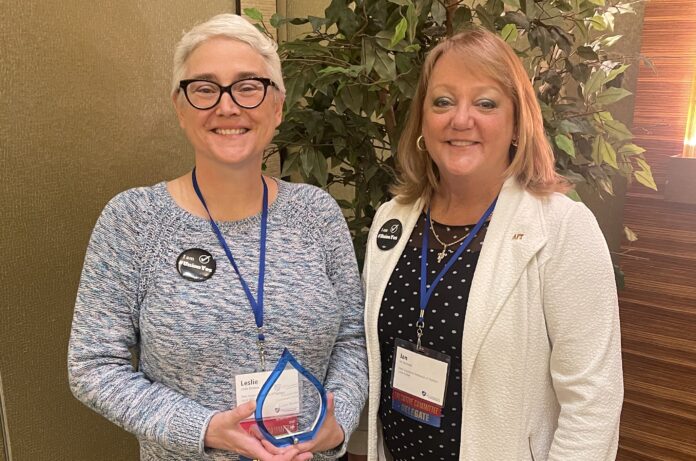 While AFT Connecticut's annual convention is an opportunity for state federation leadership to take action on priority policy initiatives, it's also a time to lift up members. The 2023 event's agenda included a return to the announcement of scholarship program winners as well as the presentation of citations, recognitions and awards. The theme of the event – "Charging Up!" – perfectly captured the engagement, energy and enthusiasm of this year's well-deserved honorees.
The announcement of our state federation's scholarship recipients featured remarks by George C. Springer, Jr., who presented the grant named after his father and longtime AFT Connecticut leader. Before introducing grant winner Emily Benson, he shared one of the most valuable lessons he learned growing up in a union household; "nothing changes unless we change it."
Click here to watch highlights of this year's scholarships presentation.
Local unions and state federation staff celebrating milestone anniversaries were also recognized, in addition to the many delegates who engaged in grassroots legislative action during the General Assembly's 2023 session.
Click here for photos of delegations presented with commemorative citations.
Click here for a photo of legislative activists gathered at the convention.
Both recipients of Connecticut's statewide educators of the year are members of affiliated local unions and their presidents were asked to speak to their respective accomplishments during the awards program. Our Bristol Federation of Teachers' Carolyn Kielma and our Meriden Federation of Teachers' Don Askew were each praised for their collective commitment to "helping youth become better humans."
Click here for a press interview with Askew following the announcement of his selection.
Click here for recent news coverage featuring Kielma's views on challenges facing her profession.
Our Hartford Federation of Teachers' second vice president, Stuart Beckford, was presented as 2023 "Unionist of the Year" for consistently "seeking out ways to further the labor movement's vital work." Among the many contributions cited by local president Carol Gale was his recent work to establish and grow a Black Caucus within our state federation.
Click here for a photo of Beckford with his award and fellow delegates.
The 2023 Joseph H. Soifer Award was presented to Chad Cardillo, who currently serves as our Meriden Federation of Teachers vice president for secondary schools. His extensive engagement in AFT Connecticut's political program was among the numerous examples of labor activism that local president Lauren Mancini-Averitt credited for his nomination and eventual selection.
Click here for a photo of Cardillo receiving our annual Soifer award.
Longtime labor activist and local leader Leslie Blatteau (left, in photo above) received the 2023 President's Award in recognition of her extensive union service, social justice advocacy and political engagement. In addition to her role heading our New Haven Federation of Teachers, she serves on AFT Connecticut's executive committee and our national AFT's Program and Policy Committee for PreK-12 educators.
In her presentation, state federation president Jan Hochadel (right, in photo) credited Blatteau for her "upbeat, can-do nature" and devoting seemingly "boundless" energy to her activism.
Two additional union leaders each received a "Special Recognition Award" during the program. Hochadel thanked our state federation's outgoing PreK-12 divisional vice president, Mary Yordon, for embodying what it means to apply "solution driven union" principles to our policy advocacy.
Click here for a photo of Yordon receiving her award.
AFT Connecticut's departing secretary-treasurer, David Hayes, was also recognized for his steady oversight and guidance during uncertain times.
Click here for the full "Awards" report provided at the event to convention delegates.