The initial proposal put forward on February 3rd by Governor Dannel Malloy is unfair and needs to be developed in a more collaborative and transparent way. It, and his subsequent "rescissions," are premised on a false argument; that working families relying on public services, from domestic violence intervention to mental health programs, should bear the greatest burden.
AFT Connecticut President Jan Hochadel late last month told the legislature's finance committee that doesn't have to be the case — especially when viable alternatives exist.
"If attacking working people and cutting services—while refusing to raise taxes on the wealthy — actually worked to improve the economy and grow jobs, why have the economies of Kansas and Wisconsin struggled?" Hochadel (pictured above, testifying to the committee) asked. "Why has Minnesota, which raised taxes on the wealthy and maintained services, seen its economy grow?"
Click here
for Hochadel's full testimony to the committee.
"Connecticut doesn't have a budget problem. Connecticut has a fairness problem," Hochadel added. Her comments echoed the message in the full-page we teamed up with our national union last month to place in The Courant.
If the state's wealthiest individuals and corporations paid their fair share of taxes, drastic cuts could be averted. Connecticut's richest one percent pay approximately five percent in state and local taxes. In contrast, public employees, like other working and middle-class families, pay almost 10 percent, according to the Institute on Taxation and Economic Policy (ITEP) and the Economic Policy Institute.
Click here
for ITEP's Connecticut data from their 2015 report, "Who Pays?"
Malloy's proposal to cut several thousand full-time workers would negatively impact a wide variety of criminal justice and public safety services that are key to Connecticut's quality of life.
Carmen Roda, president of our AFT Connecticut-affiliated Judicial Professional Employees (JPE) union, the week before shared his concerns about the ramifications with the legislature's appropriations committee.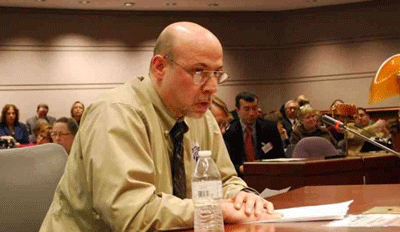 Roda addressed the proposed elimination of criminal justice professionals who support 53,000 probationers and others under community supervision, as well as tens of thousands under pretrial supervision. Until now, rates of re-arrest in Connecticut have been dropping at record rates, said Roda (pictured above testifying to the committee), adding his fear that cuts would "have adverse effects on all branches of our service."
Click here
for Roda's full testimony to the committee.
Like our state federation president, Roda points out that collaboration is key to reasonable, long-term budget solutions.
"I hope the governor will be smart enough to realize that if you want people to be part of the solution, you have to talk to them first. We're not the problem," he says. "We lived up to our part of the bargain, and we can't make up for the governor's checkbook problem."
Roda and JPE union members will be joining other state employees who provide vital public safety services for a rally at the State Capitol in Hartford next Tuesday morning. Join them in urging policymakers act to respect the first responders and criminal justice, correction and law enforcement professionals we all depend on.
Click here
to learn more about Tuesday's "Respect Those Who Protect" rally.