Hundreds of AFT members and staff took part in a "Day of Action" on Nov. 10 to help with Hurricane Sandy relief efforts. AFT members from Connecticut, Maryland and Pennsylvania traveled by bus to New York to volunteer with members of the United Federation of Teachers to distribute much-needed supplies, food and clothing to members in affected areas throughout parts of New York.
Members from AFT Pennsylvania and the Baltimore Teachers Union were at the United Federation of Teachers headquarters in New York City. They stuffed 30,000 backpacks with school supplies and other necessities. The backpacks will be given to elementary and secondary school students who have been relocated because of the storm. First Book also provided 30,000 books to be distributed to children affected by the storm. In addition to school supplies, the UFT also collected coats, hats and gloves donated by AFT Pennsylvania members.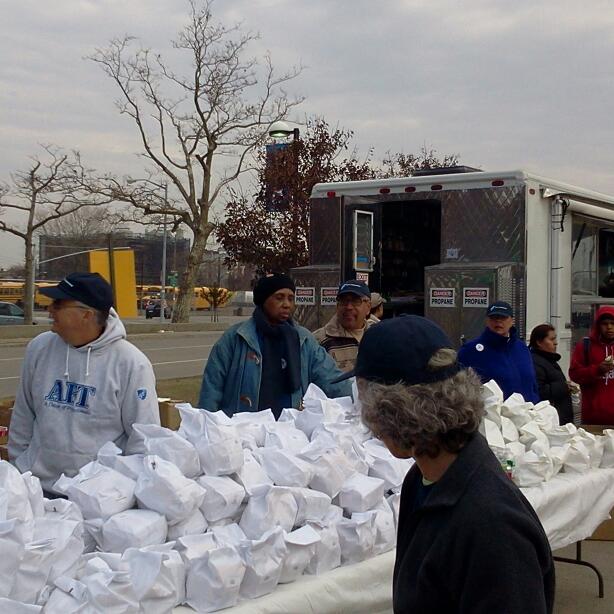 Volunteers from AFT Connecticut and AFT national headquarters in Washington, D.C, were also on hand. They spent the day in the Rockaways and Coney Island, where they distributed items such as toiletries, water and batteries to members and others in the community. Volunteers also took part in cleaning up beach areas, parks and school yards.
A group of volunteer members from upstate New York, who had gotten some help from the UFT and others when Hurricane Irene hit last year, decided to return the favor this weekend. Martin Messner, president of the Schoharie (N.Y.) Teachers Association, who was named an AFT Everyday Hero for his local's efforts to help in the aftermath of Irene, mobilized his members to help rebuild homes on Staten Island. Members of the New York State United Teachers were on Long Island to help at recovery sites as well.
In addition, the AFT delivered cleaning supplies, gas cans, batteries, blankets and other items to the AFT-affiliate Health Professionals and Allied Employees in New Jersey. The donated items will be distributed to locals where members have been hit the hardest.
AFT Connecticut sent two more busses of volunteers back the following weekend to help with cleaning up debris.