Professional Development
Note - continuing education resources to mitigate the impact of the COVID-19 (novel coronavirus) outbreak on members of affiliated local unions will be linked here.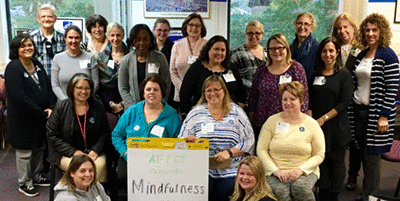 We know that in public schools, community hospitals, colleges and universities, and state and municipal governments, one of the most important assets is the professional workforce. And we know that one of the most important investments to improve and strengthen the vital services they deliver is in continuous, high-quality professional development (PD).
Click here
for AFT's national PD Program for Educators.
---
Upcoming PD Opportunities
Be sure check the "Calendar" at right for upcoming PD events and activities for
PreK-12
certified teachers, paraprofessionals and school-related support personnel (
PSRP
), nurses and healthcare workers, higher education faculty, and public employees.
Click here
to request to be added to our e-mail list for notice of upcoming PD events.
Click here
to watch highlights and full programs for select PD courses (
Nov. 4, 2020
).