Grants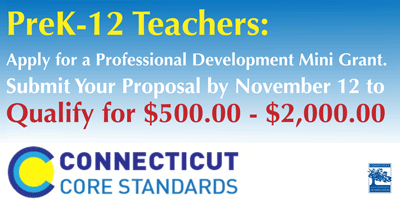 Aetna Foundation

The Aetna Foundation is the independent charitable and philanthropic organization funded by Aetna Inc.
AT&T Foundation - Education

The AT&T Foundation seeks to educate, enrich, engage and empower the communities served by AT&T.
Carnegie Corporation

A N.Y. grantmaking foundation with a market value of $1.55 billion which has founded many significant education inquires.
Connecticut Commission on Culture & Tourism (CCT)

New Arts in Education pilotgrant opportunities in two categories: Early Learning and Undeserved Youth.
Connecticut State Department of Education

Division of Grants Management
Earthwatch Institute

Provides fellowships for teachers and administrators to participate in an Earthwatch research experience in their subject area.
Environmental Protection Agency

Grants for environmental education programs and efforts.
IBM Philanthropy

IBM counts education as the top priority in its philanthropic efforts.
ING Unsung Heroes

Grants are given to K-12 educators utilizing new teaching methods and techniques that improve learning.
Institute of International Education

Japan Fulbright Memorial Fund Teacher Program provides American primary and secondary school teachers and administrators with fully-funded short-term study tours of Japan.
Pay It Forward Foundation

Mini-Grants designed to fund one-time-only service-oriented projects identified by youth as activities they would like to perform to benefit their school, neighborhood, or greater community.
The Mockingbird Foundation

Grants for music education for school children.
U.S. Department of Education

If you're interested in applying for a grant or contract, here's information you'll need to know