AFT Connecticut Scholarships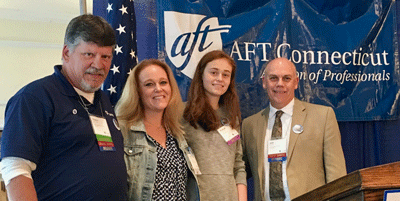 The AFT Connecticut Scholarship Program provides funding to eligible members and their dependents selected by the scholarship committee based on applications submitted by those seeking the benefit. The executive committee votes on the recommendations made by the scholarship committee at its April meeting each year, and the awards are presented at the banquet session of the annual business convention.
The Scholarship Account is funded by AFT Connecticut, but is supported by donations from local unions when they name members to the AFT Connecticut Honor Roll.
Click here
for the program guidelines and criteria (updated Jan., 2016).
The deadline for applications will be a postmark of April 1, or the closest business day to April 1 in each year. The deadline will be strictly adhered to.
Awards are presented to the candidates selected by the scholarship committee. The amount of the awards is determined each year by the committee based on academic promise, financial need, and other criteria the committee chooses.
Persons eligible to apply for a scholarship are members, members' spouses or domestic partners, or children of members. Grandchildren of members are also eligible if they are legal dependents and/or the grandparents are financially responsible for the child.
Click here
for the 2019 application for union members (updated
Feb., 2019
).
Click here
for the 2019 union members' spouses, domestic partners or children (updated
Feb., 2019
).
Click here
to watch the scholarship award presentation at our 2018 convention.