Court Decision on Affordable Care Act is Win for Working Families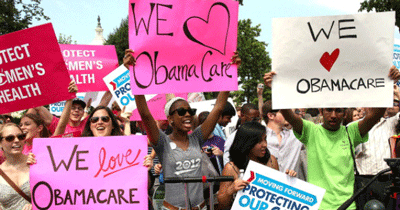 "This is a victory for working families," said AFT President Randi
Weignarten
. "Ask the nurse who sees patients every day who are getting healthy thanks to the Affordable Care Act. Ask the adjunct professor or the school support-staff worker who now have coverage thanks to the law. The Affordable Care Act is working."
"Today's Supreme Court decision validates the decades of hard work of our members to improve access to affordable healthcare," said AFT Connecticut President
Melodie
Peters. "From local negotiations to the state legislature to the nation's capitol, we have long advocated for reforms that would expand coverage to more working families. Now, millions of Americans who are
benefiting
from those efforts will keep the care they depend on."
The decision ensures continued eligibility for subsidies that help slash the cost of insurance for those living in 34 other states with health insurance marketplaces overseen by the federal government. These grants have controlled costs for all consumers by allowing a larger insurance pool that spreads risk among the young and healthy, as well as the elderly and the sick.
If the justices had ruled the other way, not only would millions have lost their coverage but healthcare premiums for everyone else would have skyrocketed.
Click here
for national press coverage with a scientific perspective.
"Out-of-control healthcare inflation is beginning to be tamed," said Weingarten. "A new focus on quality and outcomes is helping all patients get better care. And preventive care and access to lifesaving treatment and medication have meant more years of healthy life for countless Americans."
The majority opinion of the Supreme Court prevents what analysts from across the political spectrum agreed would have been a significant disruption to the nation's healthcare delivery system. Going forward, union members can confidently continue our shared efforts to improve the ACA and fulfill its vision of affordable, quality healthcare for all.