Benefits
Note - benefits and services available to members to help alleviate the impact of the COVID-19 (novel coronavirus) outbreak will be linked here. They may include programs administered by vendors, providers or agencies other than our union and traditional labor partners.
Click here
for Union Plus All-in-One Prepaid Visa Card (May 21, 2021)
Click here
for a free subscription to DinnerTime's prepared meal service (
May 20, 2020
).
Click here
for the state early childhood agency's frontline workers' child care benefit (
May 1, 2020
).
Click here
for our national union's trauma counseling insurance benefit (
Apr. 17, 2020
).
Click here
for Mass Mutual's HealthBridge life insurance benefit for health professionals (
Apr. 15, 2020
).
Click here
for Union Plus' hardship financial, homeowner and healthcare assistance (
Apr. 13, 2020
).
AFT Connecticut members and their families have access to numerous, exclusive benefits, including consumer discounts, educational scholarships, financial services and low-cost insurance.
Benefits featured in recent editions of our monthly e-newsletter, "Inside AFT Connecticut," will be highlighted here, so check back regularly.
---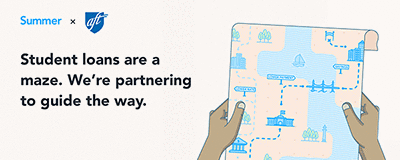 AFT-affiliated union members are eligible for a free subscription to Summer, a trusted online platform that helps borrowers simplify and navigate their student debt. The easy-to-use tool can deliver an average of $180 per month in savings on loan repayments.
Click here
to learn more about how your union can help you reduce student debt
.
---