CSCU Faculty and Professional Unions Issue a Statement of Unity Opposing Consolidation Efforts
The statement issued by the Congress of Connecticut Community Colleges (The 4Cs), the Federation of Technical College Teachers (FTCT), AFT Local 1942, the Connecticut State University chapter of the American Association of University Professors (CSU-AAUP), the American Federation of State, County and Municipal Employees (AFSCME), Local 2480 and the State University Organization of Administrative Faculty (SUOAF-AFSCME, Local 2836) states that the consolidation plan
"will not realize the projected savings, will be disruptive for students, will have negative consequences on critical student outcomes, and will erode the value of the community colleges for students and for the state of Connecticut for years to come."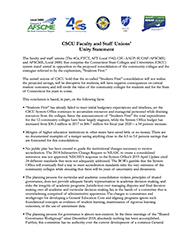 As currently proposed, the consolidation plan, which is titled "Students First," will not be completed until 2023, but it has already "steered tens of millions of dollars into a central office that does not educate anyone, while starving the campuses of needed resources," said Maureen Chalmers, the president of the 4Cs. "The system office budget has increased from $30.3 million in 2017 to $46.7 million for fiscal year 2020 – a 54 percent increase."
Dennis Bogusky, the president of the local chapter of AFT, said, "the only things we have seen so far in the implementation of 'Students First' is a sharp reduction in the number of faculty and staff working at the colleges and the hiring of more high-priced administrators. Replacing professional educators with more bureaucrats and administrators is not a recipe for success."
Chalmers added that "the concentration of all authority and control in a system office will result in the teaching faculty losing control over the academic programs they have developed to meet the workforce needs of businesses in their local communities."
Patty O'Neill, president of CSU-AAUP, stated, "while the community college consolidation does not affect the universities directly, our members also are opposed to this plan. Many of our students who graduate from our universities have earned at least some of their credits at a community college. We have a responsibility to speak up for those students and for the institutions that serve some of the most economically challenged young people and adults in the state."
The joint statement closes with a pledge that the unions will "support mutual efforts to end the 'Students First' consolidation."
# # #
Click here for the full joint statement.