Grants
AFT Connecticut Grants
AFT Connecticut has initiated a grant program to make funds available to AFT Connecticut members for financial assistance. A total of $4,000 is available in each fiscal year (July 1 through June 30). Each member is eligible for a maximum grant of $500 per year for programs listed below. Grant applications may be submitted at any time, and will be reviewed in the month following the nearest deadline.
The grants and their accompanying eligibility requirements are:
AFL-CIO SUMMER SCHOOL - This course is held each year in June at the University of Connecticut Campus in Storrs. Participants usually spend the week on campus, but may commute. Topics vary and may include negotiations, collective bargaining, politics, grievances, and arbitration, etc.

AFT CONSTITUENT ISSUES CONFERENCES - Includes TEACH for Pre-K through 12; PSRP conference for paraprofessionals and school related personnel; Health Care Conference for all health care related workers; Public Employee Conference for state, county, or municipal workers; Higher Ed Conference for all higher education personnel.

GEORGE MEANY CENTER COURSES - Covering a wide-range of topics such as collective bargaining, leadership development, grievance handling, how to run a local, etc.

OTHER PROGRAMS THAT CONTRIBUTE TO LEADERSHIP SKILLS - Consideration will be given for any program, including attendance at AFT-sponsored conferences or training.
Deadline for Application Submission: January 31, April 30 and September 30.
---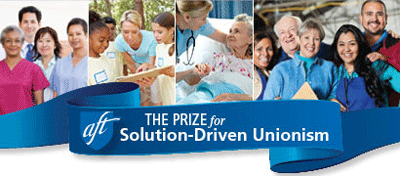 Solution Driven Unionism
In 2013, the prize for Solution-Driven Unionism was created in partnership with the Albert Shanker Institute and the AFT Innovation Fund. The purpose is to reward union members working to create solutions and implement innovations that improve their workplaces and boost the quality and efficiency of the services they deliver.
AFT Connecticut won the national union's inaugural $25,000.00 prize for our members' innovative efforts in 2011 to improve employee wellness and reduce healthcare costs. The award recognized our role as part of the State Employee Bargaining Agent Coalition (SEBAC) to create the Health Enhancement Program (HEP) negotiated with Governor Dannel P. Malloy.
Click here
for a video of the December, 2013 "Solution-Driven Unionism" prize news briefing.
Click here
to apply for this year's $25,000.00 "Solution-Driven Unionism" grant by August 15.